We've compiled a list of the most crucial factors when seeking warehouse storage in the Tacoma and Seattle area that you should consider.
Distribution, storage, and production are just a few uses for leasing a warehouse. Each industrial property has its unique set of rules and responsibilities for tenants. Because of this, it's essential to research and ask plenty of questions of the owner, landlord, and listing agent to ensure the space is right for your business.
10 Helpful Tips for Warehouse Leasing
Finding a larger area to store your inventory tends to become an immediate top priority when growing your business. Many companies need warehousing to do this. When searching for a warehouse to rent, it's essential to keep these things in mind:
1. Operating Expenses
When renting warehouse storage, it's necessary to consider the operational costs and whether or not the lease covers them. Take into account the costs of taxes, insurance, maintenance of the building, and what the contract does and doesn't cover.
Tenant(s) could be responsible for all, a portion of, or none of these costs. It would help if you also inquired about the basic maintenance costs, such as who will be responsible for trash, utilities, etc.
Locating potential storage facilities in Seattle that can accommodate your business's growth while maintaining the safety of your products is your top priority.
Here at Morning Star Transport, we understand the financial aspect and strive to do our best to provide the best competitive pricing in the Puget Sound region.
2. HVAC – Heating, Ventilation, and Air Conditioning
Most industrial warehouses do not provide a comprehensive HVAC system. If you desire HVAC, you are responsible for installing and maintaining it. Sometimes when renting a place, you may end up in a unit where someone else had previously installed and used an HVAC system.
Avoid taking on the responsibilities of a unit that the previous renter may have neglected to avoid taking on extra expenses. If the present HVAC unit in the building needs substantial repairs or replacement, the warehouse owner generally won't cover the cost; however, you can try to negotiate with them.
You should only sign a lease after obtaining written confirmation from a licensed HVAC expert that the landlord has had the HVAC system examined, serviced, within safety compliance, and is in good working order.
3. Parking Area
Some landlords try to pass the cost of asphalt or concrete parking lot maintenance onto their renters. Employee parking, customer parking, overnight parking, and everyday use are fundamental reasons to need a parking lot.
Since parking lot maintenance is an ongoing expense that contributes to the overall value of a property, the landlord should be responsible for covering the associated costs. The lot size ought to be adequate for your company's needs.
For example, the parking lot's width should be sufficient for tractor-trailers if your business requires them. If you need to leave a truck or other vehicle in the parking lot overnight, be sure you have space and permission.
4. Square Footage
A rental unit's square footage can be measured in various ways, depending on the landlord. Understanding their methodology and the factors they are taking into account is helpful information when making a decision.
Because it is a burden to pay for unused space, knowing how much room you need and how much space a rental provides is vital. Be aware that cost generally increases with larger spaces. Also, take into account the actual structure and whether any of the square feet you're paying for are obstructed or inaccessible.
5. Zoning
Before investing in a property, it's a good idea to ensure it's been zoned for industrial warehouse usage. Think about how many parking spaces you'll need for every 1,000 square feet.
Not only do you want to ensure the building is zoned correctly, but you'll also want the indoor operation properly zoned.
Zoning is to keep devices apart from one another in an organized manner which can affect resource management, fabric stability, and security.
You generally want to set up five zoning areas in industrial warehousing and they will serve as the reception area, load/unload zone, storage zone, pick-up, and shipping zones.
You can also divide up the warehouse based on different package types and velocity codes to curate an efficient system of operations.
Having your warehouse appropriately zoned provides for a smooth operation and leaves less room to encounter problems.
6. Warehouse Loading Docks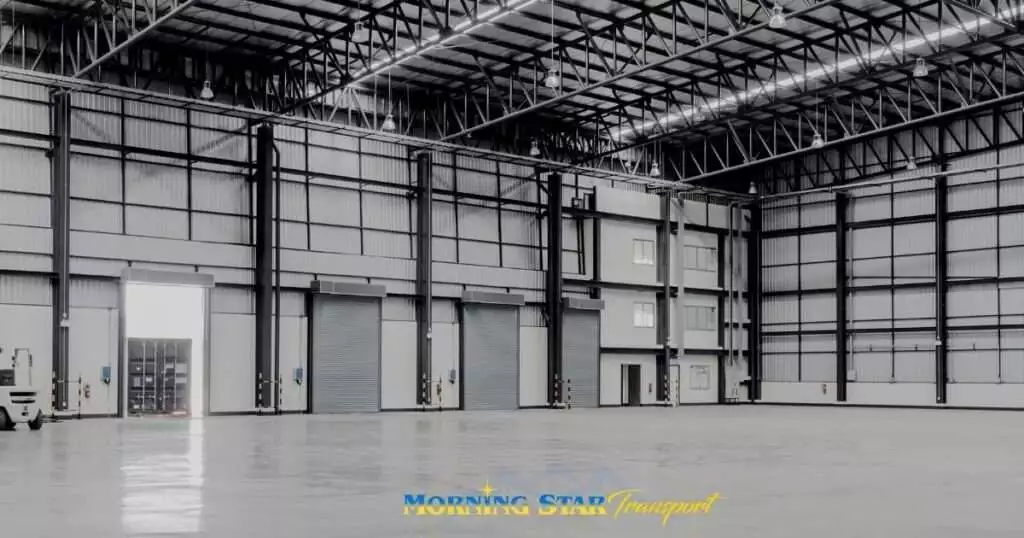 When considering loading areas, you'll need to consider how you plan to move about your items. Is an 18-wheeler or a UPS-style truck what you'll have employed to transport your goods? If yes, you'll need to inquire if it is acceptable to let trucks and other vehicles into the warehouse or if there is a loading station. Assuming this is the case, you'll need loading at grade.
Trailers and trucks used to be 45 feet or less in length. However, now they can be up to 60 feet in length. That means you'll need a space of at least 120 feet to make a turn if you're employing a 60-foot truck.
Some properties, especially those with a long history of industrial usage, may still need to adapt if they haven't already. Inquire about the availability of utilities and whether or not the landlord would be open to installing new ones if the ones you need are absent.
7. Electrical Power
Please inquire with the landlord about the building's power supply to be sure it can handle your appliances. You should ensure the warehouse has sufficient available electrical outlets before signing any leases.
Using big electric vehicles also necessitates adequate charging and operational power within the factory. Warehouses can sometimes be costly investments.
Moreover, before negotiating a lease, a qualified electrician should inspect the building's wiring and perform any necessary repairs. They might tell you if the facility has enough amperage and power to avoid disasters like a transformer blowing.
8. Industrial Warehouse Ceiling Height
Knowing how much space you need to stack your goods safely is critical.
The building's cubic footage defines the storage capacity of a building. Warehouse and industrial spaces generally price rental by square foot.
When picking out the perfect warehouse space, keep in mind how high up you need the storage space to go. If you have a high enough ceiling, you can store additional stock via stacking or shelving. If you don't need a lot of height to contain your products, you won't need a taller structure, which costs more. However, seeking a unit with taller ceilings will be essential if you need adequate vertical storage.
9. Expansion Possibilities
Knowing whether or not you can grow into a larger space is valuable information to have. Find out from the warehouse owner if the tenants in the surrounding units have renewal options.
Since business contracts are usually for several years, it's a good idea to see if there are other available spaces in the area. If your business outgrows the space provided by your lease, you won't have to uproot your operations and risk losing productivity.
To the extent that you can help, you should avoid switching distribution centers. If your neighbors have room to expand into your area, talk to your landlord about a possible free relocation.
In the meantime, you can expand within your current space by adding additional vertical storage, reconfiguring your layout more efficiently, reducing aisle width, installing a mezzanine, and ensuring there are no underutilized spaces.
10. Security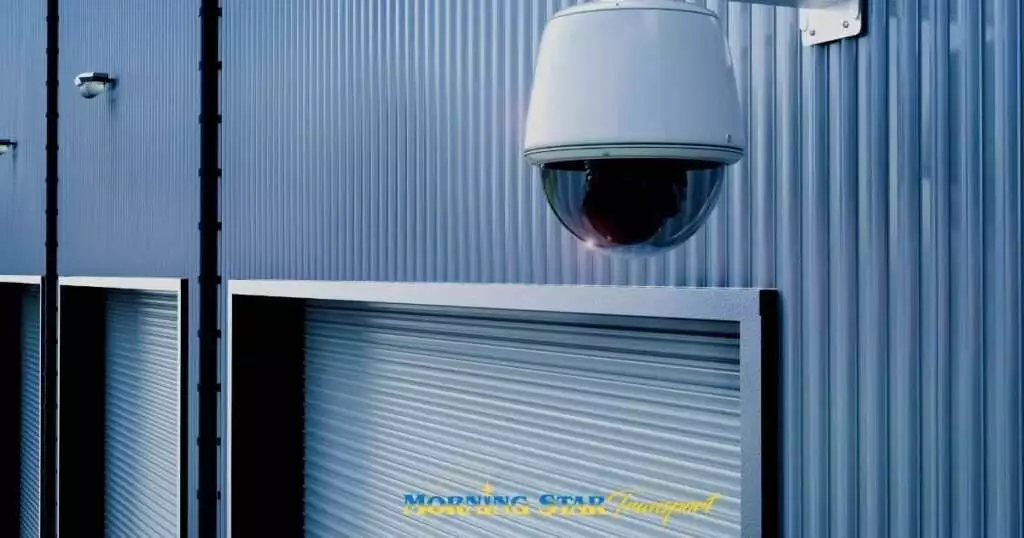 Security is the most crucial consideration when looking to lease warehouse space. Safeguarding the warehouse's contents is a top priority in ensuring your investments have protection.
If thieves break into your warehouse and steal your stock, it will be a significant financial setback for your business. Is there a fence around the warehouse, security cameras, good lighting, and do you need a key or a code to enter the premises?
You and your landlord can discuss the possibility of installing extra security precautions around the warehouse. In addition, having guards do regular patrols will send a strong deterrent message to possible offenders.
The Best Warehouse Storage Solution
Now that you thoroughly understand all the things that go into choosing a perfect warehouse in Seattle, rest assured knowing Morning Star Transport has you covered!
If you need a long or short term warehouse rental storage, we got you covered. Here at Morning Star, we pride ourselves on providing top-tier warehousing services as we strive to meet all the needs of our customers. We can even help you with the transportation aspect of your goods.
Get all your essential business needs covered in one spot with Morning Star Transport's multifaceted services. Please get in contact with us to find out exactly how we can provide warehousing for your business to help your operations run smoothly. Give us a call today to check warehouse availability!