If you're running a business in the Tacoma area and require a trucking company to help your business, Morning Star Transport LLC has got you covered.
Hiring a trucking company is more straightforward than one might imagine. Working with a trucking company can help improve the productivity and efficiency of your business.
Trucking companies are an excellent resource for a wide variety of needs. While some cater to niche markets, others supply staples that any expanding company must have.
In this article, we provided some basic information on trucking services for those seeking guidance in their journey partnering with a trucking company.
What are Trucking Services?
Businesses hire trucking services to help handle shipping and transport requirements for their business. There are several different modes of transport to choose from, and we are available to help guide you to the one that best suits your needs.
The necessity for so many options stems from the variety of goods that require different handling in addition to every business having specific requirements and quotas. Many details, financial concerns, laws, and regulations come into play with transporting goods. This is why hiring a third-party logistics company comes in handy in terms of saving time, money and relieving stress for the business operator.
Hiring a third-party logistics company allows you to put your energy where it's needed most—into managing and growing your company to increase its value to current and potential customers.
Morning Star LLC employs only the most experienced and qualified personnel, including professional licensed drivers, skilled mechanics, and a dedicated logistics staff. Whether you need to move freight across town or cross country, our fleet is prepared to safely and securely transfer your deliveries to their destination.
When you retain our commercial and residential shipping services, you can rest assured that we will proudly shoulder the responsibility of transporting your cargo.
Reliable Trucking Transport In The Seattle Region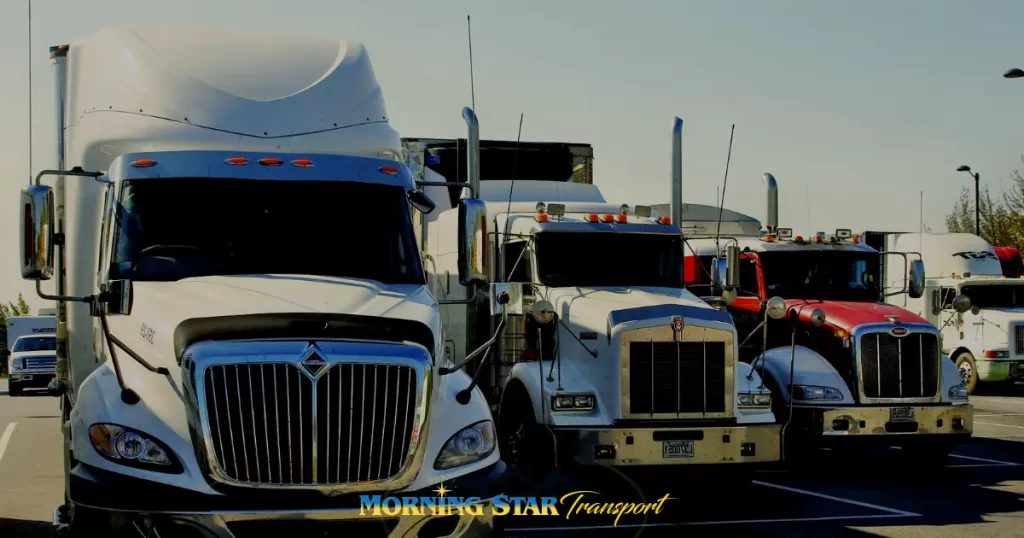 Every trucking company has its unique set of advantages and disadvantages. First, you need to know your requirements if you want your goods delivered swiftly, securely, and affordably. After that, you'll be able to choose the transportation strategy that best serves the interests of your company. Morning Star LLC has its headquarters stationed in Tukwila, Washington, conveniently located between Tacoma and Seattle, and services one of the busiest ports in the world. So if you need reliable service in the Tacoma Region, know that we proudly provide top-tier service from your neighborhood to anywhere in the US where your goods may need to go.
Partial Truckload, or LTL
If your load only partially fills a truck but weighs more than 100 pounds, you are eligible for LTL (less-than-truckload) services. Shippers who use LTL can load their goods into a truck with other shippers and pay for only the space their items take up. This is a great option to save money if you need to ship something but don't need a whole truck. However, since you will share the cargo space with others, you will have less say over shipping routes and timing.
Full Truckload or FTL
If you have a shipment that will fill a complete freight trailer, usually 8′-8.5′ wide, 12.5′-13.5′ high, and 40′-53′ long, or if you need a truck trailer that will be exclusively for your shipment, then full truckload shipping is the best option for you. Compared to LTL shipping, FTL gives you greater flexibility in truck routes and schedules.
Cross Docking
In cross-docking, goods are shipped directly to a warehouse or distribution center, bypassing any intermediate stops. A warehouse never stores anything long-term; everything is in a "ready to deliver" state.
Cross-docking requires coordination between shipping and receiving. As a result, cross-docking is a logistical method that reduces distribution costs significantly. A warehouse's four primary functions are product receipt, storage, order retrieval, and delivery.
Intermodal Freight Shipping
The purpose of intermodal freight transport is to move cargo between different modes of transportation, such as trains, ships, planes, and trucks, without having to unload and reload the load.
Intermodal Freight shipping helps ensure the safety of the products during shipping and reduces the time it takes to get them to customers. One example of intermodal transport is the shipment of a container by truck to a rail station and then back by truck to complete the freight forwarding process.
Drayage
Drayage is a type of transportation that connects the many modes of transit used in international shipping. Products may undergo shorter-distance transport before or after their long-distance transit.
Drayage trucks haul freight between various hubs, including shipping terminals, warehouses, distribution centers, and rail yards. In addition, it can typically be completed by a trucker within one shift, saving time and money. Drayage companies often exclusively service a single major city and move products within the city limits.
Floor Loaded or Palletized
Palletized transport refers to loading cargo onto a truck or container and securing it to pallets. When shipments are brought directly onto the floor, they are stacked vertically without using pallets. Floor-loaded transport is more cost-effective and convenient for less-than-pallet-load shipments, while pallet shipping is preferable when transit time is critical.
When comparing palletized freight and floor loading, it is essential to note that the latter does not necessitate the use of pallets. The floor-loaded method usually fills the entire trailer, container, or vehicle when transporting goods.
Find the Best Trucking Company for Your Next Transport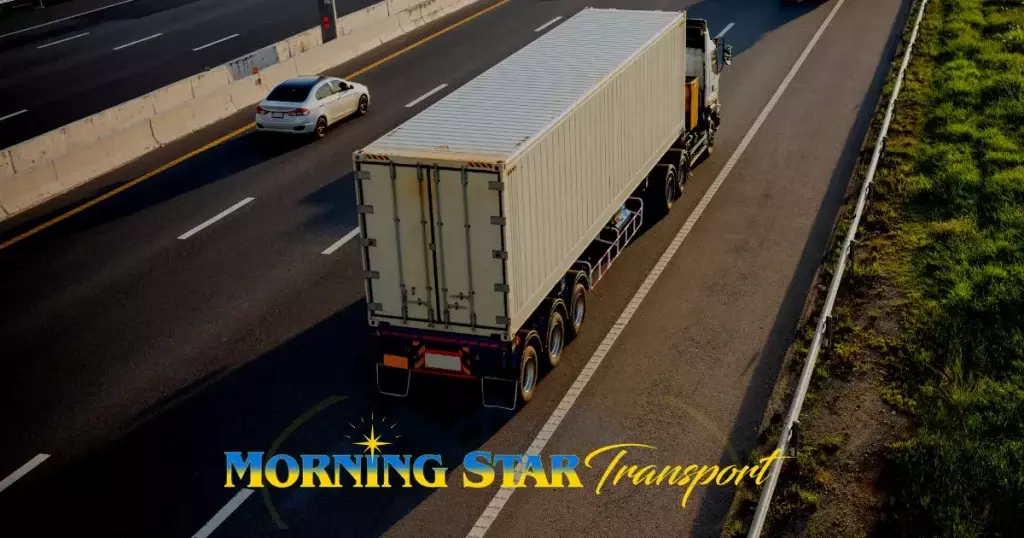 There are various things to keep in mind when deciding which trucking company to hire for your next shipment. Inquiries like these can help you zero in on the optimal freight shipment strategy. Get these details ready before calling your cargo shipping agency to arrange a pickup and delivery date:
Where can you arrange a pickup or get a delivery
Is there a need for specialized storage for the shipment
How quickly does the company require the orders to be fulfilled
Does the company assist with packing and unpacking
What is their budget
Their shipment size
Morning Star Transport offers a wide array of services and can work with customers to cover all their needs.
Tips on Choosing a Trucking Service
Maintaining a high customer satisfaction level is most companies' top priority. Therefore, trucking companies must meet their client's needs and expectations to succeed.
It would be helpful if you considered the following when searching for a trucking company or trucking agent:
Dependability and Skill
An established firm is preferable when looking for trucking services since it will have more industry experience and know how to handle any issues that could arise. Investigate the company's history, ratings, and range of offerings they provide. The business or individual responsible for transporting your goods should have commercial truck insurance in case of an accident or cargo damage. Hiring a third party to handle your logistics is to reduce your stress and workload, so make sure you check their reviews and that their licensing and certifications are all up to date.
With Morning Star LLC, you can breathe easier knowing you're doing business with experienced professionals with a long history of satisfied customers.
Guaranteed Safety and Security
The company or carrier responsible for transporting should have commercial truck insurance in case of an accident or damage. This coverage ensures that the business's assets are safe from total loss. In addition, you want to ensure there are always eyes on your shipments to protect them from thieves or any damage.
Morning Star LLC provides clean, regulated facilities and trucks, as well as 24/7 security monitoring in several different forms, to assure customers that their investments are safe and provided with maximum accountability to all business endeavors.
Team Members with Expertise
The best truck drivers will have spotless records. A driver with a perfect record has no traffic violations or accidents on their driving resume. In light of this, companies providing trucking services should conduct thorough background checks on their drivers and other staff members.
The organization needs to hire drivers well-versed in the industry who work quickly, reliably, and always on time. In addition to having qualified drivers, there should also be a reliable and knowledgeable logistics team that can help you track and ship in the most efficient ways at all times.
The Best Tacoma Trucking Services for You
Morning Star Transport serves the port cities of Tacoma and Seattle, two of the busiest in the world. Our highly skilled and experienced team is ready and waiting to assist you with any trucking services you may need in the Puget Sound Region. Our business hours are Monday through Saturday, from 6 a.m. to 6 p.m. Don't hesitate to contact us for further information.