Oversized and overweight shipment service is among the most complex and unique shipping options accessible today. Oversized or overweight loads are specialty shipments that are too big or heavy to transport on a regular truck.
Raw materials, construction materials, machinery, and other large or cumbersome goods are examples of loads that may require special handling. Therefore, companies must take extra precautions at every stage of the shipping process—especially when dealing with enormous or heavy goods, containers, or pallets.
Keep reading this blog if you want to learn more!
What Is an Overweight Freight?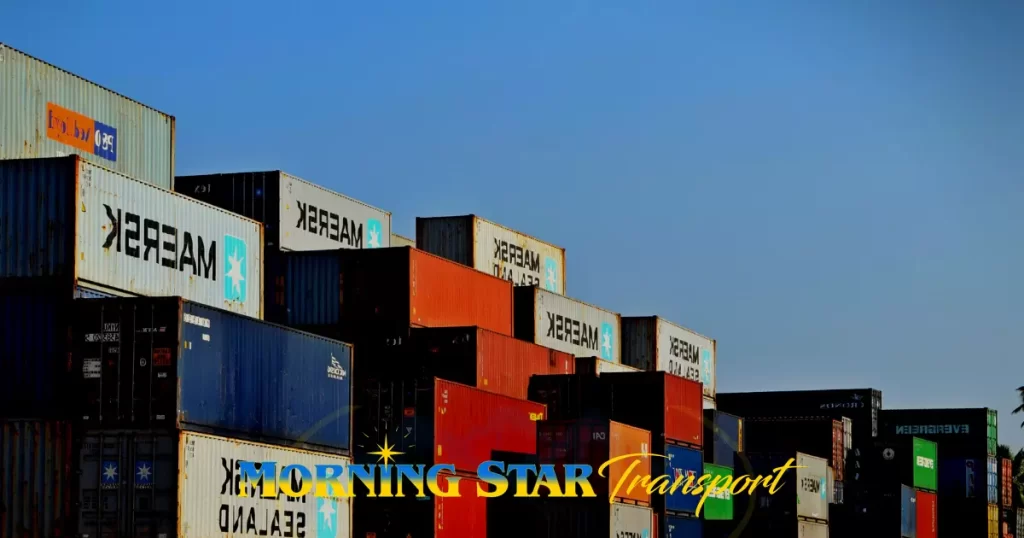 Anything weighing more than 80 thousand pounds is considered overweight freight. Carrying too much weight might cause harm to roads, bridges, or towing vehicles that aren't prepared for such weight. Carrying overweight loads can place excessive tension on a vehicle's axles if not correctly adjusted with the proper supports.
Heavy load freight has an entirely different order of operations set in place that is upheld by laws and regulations to prohibit them from causing irreparable damage. If you require transportation or handling of oversized freight, it is imperative that you go through a reputable logistics company that can ensure you're upholding the safety and regulation standards.
Morning Star LLC proudly provides safe and reputable oversized freight towing services for those seeking to hire a third-party logistics company to handle their complex transports.
Overweight Freight Limit
Various states have different maximum weight limits per truck. Still, the Department of Transportation's most common average legal maximum load width is 8.5 feet, and the legal maximum load height is between 13.5 and 14.5 feet. However, any measurements greater than 16 feet in width, 16 feet in height, 125 feet in load length, or 200,000 pounds or more cannot have self-issued permits. These checks and balances are set in place to protect the safety of all drivers on the road. Regulations are mandatory to lessen the amount of wear and tear on our nation's interstates by focusing on vehicles that can safely travel at lower speeds on roads, bridges, and overpasses of carefully allotted routes that can handle the excessive weight.
What Is Oversized Freight?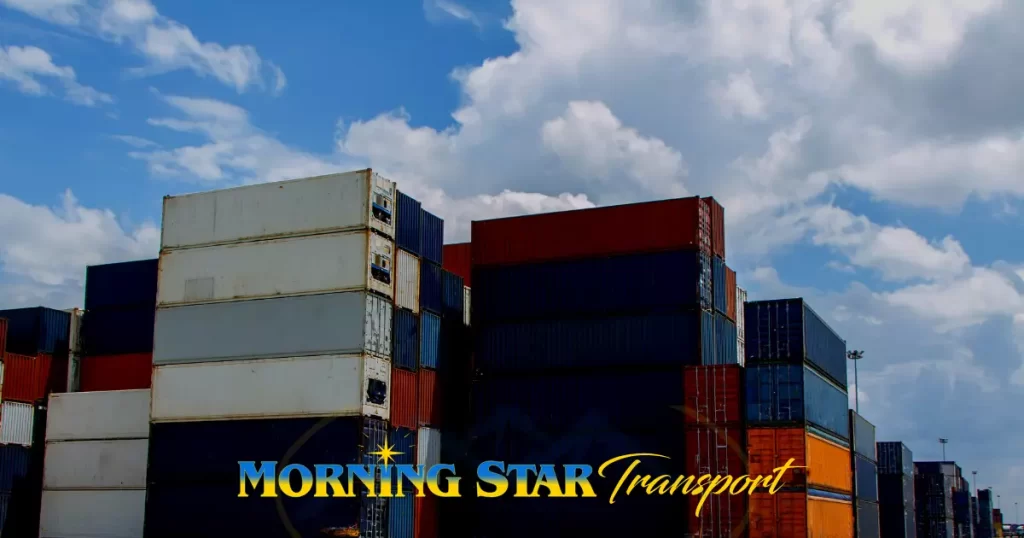 There are size and weight restrictions on all roads and highways. Oversized loads go beyond the specified dimensions and require special permits.
A load is oversized if it exceeds that municipality's maximum allowable dimensions in width, height, or weight. To comply with federal regulations, truck drivers and organizations must use safety equipment like flashing lights, bold, easy-to-read signage, and flags if transporting anything oversized.
However, carrying large loads is only sometimes indicative of excess weight. If you're moving freight, you need to know if your load is overweight, oversized, or both so you can adhere to the necessary safety regulations.
Oversized Freight Limit
Shipping restrictions in the United States are generally well-established law, and their application is typically uniform across jurisdictions with few exceptions. However, every style of the flatbed trailer has weight and size restrictions.
There is a 102-inch maximum height restriction and an 8.5-foot maximum width restriction for permissible loads. The normal legal length range is between 48 and 53 feet, with a maximum allowable weight of around 46,000 pounds. Of course, some trucks can tow more than 46,000 pounds; however, doing so requires special permits that cannot be self-issued.
Who Regulates the Transportation of Excessive Loads?
Both state and federal laws govern the transport of overweight loads. While the Federal Highway Administration and the Code of Federal Regulations lay out the standards for transporting overweight loads, it is up to the local highway patrols and other groups within each state to enforce these regulations.
Each state's separate rules govern federal highways and state and local roadways. While it is the federal government's responsibility to guarantee that interstate commerce conducts lawfully, state governments can also impose further restrictions on overweight cargo since state highways may not be up to federal specifications.
Knowing the regulations in each state that your freight will pass through might affect the arrival time and the route used. Carefully selecting routes often involves requesting permits to carry excessive loads on state highways and local roads.
Why Oversized Loads Have So Many Restrictions
Besides the risk of infrastructure damage, there are several good reasons to limit the weight of loads transported on the road. To transfer military supplies over state boundaries, the government is just one of several organizations that routinely transport overweight items.
Regulation of overweight loads is in the best interest of drivers and the public because of the adverse effects on infrastructure, public safety, and commute times.
Additionally, local and state governments care about the safety of their roads and the people who use them. A thorough understanding of the laws and regulations that affect your shipment is essential to its success.
Common Types of Heavy Haul Freight
Heavy haul might theoretically apply to anything of adequate size; however certain things fall into this category more frequently and for a good reason.
When moving, you may need special permits for the following:
Turbines and turbine blades
Tanks of all sizes
Construction machinery
Structural steel
Manufacturing equipment
Aerial lift equipment
Large pipes
This is a partial list, but it should help you anticipate when you'll need substantial specialized towing capacity.
Things to Consider When Transporting Oversized Loads
Knowing a load's exact length, width, and weight is crucial when organizing transportation to reserve the appropriate vehicles to meet the client's delivery requirements. Another critical factor to remember is the laws and regulations in your area surrounding your specialized load transport.
When preparing to deliver a vast or enormous load, shippers should focus on the following three factors:
Identifying an Oversized Load
Each axle has a weight limit. Despite not going over the total weight limit, a cargo may go beyond the limits set for each axle. Changing the weight distribution of the shipment or using undercarriage support can render it lawful and prevent the need for additional authorizations.
In most cases, the breadth of the package rather than its length causes it to have the mark "oversize." An oversized load is wider than 8.5 feet, while shipments exceeding 12 feet may require one or two pilot cars.
Remember that flatbed drivers are responsible for securing the necessary permits and are not applicable for an oversize permit for any load that you may reduce safely in size or weight.
Factors That May Affect Your Plan
Oversized cargoes that require travel escorts are often restricted to driving hours between 06:00 and 20:00 local time, Monday through Friday. Big loads also must travel at slower speeds. Additionally, some holidays and weekends have restrictions, or they are subject to stricter regulations than usual.
Truckers must get licenses from each state they want to pass through to legally transport goods over state lines, outlining their specific itinerary. As a result, shippers face unique difficulties when trying to stay on schedule due to these issues, especially travel time constraints.
Figure Out When You Might Need an Escort
Many jurisdictions have laws requiring escorts or "pilot cars" for shipments wider than 12 feet. The total cost of transporting goods would include the variable per-mile fees and the accessories, such as lodging and meals.
Travel escorts are responsible for alerting flatbed drivers to any unusual conditions that may arise while on the road, such as the presence of an accident, construction zones, bridges, low wires, traffic congestion, etc. Furthermore, they help warn pedestrians and motorists that a large vehicle is operating nearby.
How Morning Star Transport LLC Can Help
While shipping oversized loads presents its unique set of difficulties, it is the most effective means of transporting a full load from point A to B. Keeping up with the many regulations and rules governing broad-load transport is crucial for specialized services.
Overweight and oversized freight shipping requires careful preparation to avoid hiccups in the delivery schedule. When arranging for the oversized shipment of large items, it is essential to collaborate with professionals in the field. Outsourcing to a third-party logistics company such as Morning Star Transport LLC can make specialized shipping a more stress-free experience.
Our highly skilled team of experts can guarantee to handle your precarious shipments properly, legally, and safely. Contact us to prepare your next load and see the positive impact professional assistance can make.