Freight forwarders, logistics providers, and trucking companies all offer drop-and-pick services. In logistics, "pick and drop" refers to having a company collect a shipment from one site and then transport it to another. Corporations frequently hire this service when they must relocate high volumes of inventory.
Please read on if you want to discover everything there is to know about container drop and pick transport services!
What is a Drop and Pick in Logistics?
In logistics, the practice known as "drop and pick" is a corporation or individual that delivers to a customer and then picks up another shipment to transport back to the original warehouse.
Warehousing companies use this technique frequently to ensure that goods are moving promptly and efficiently between the various warehouses. Using a drop-and-pick approach for logistics has many advantages.
First, it reduces vehicles' waiting time when parked at a storage facility or distribution center. Second, by using the same truck to enter and exit merchandise, businesses may better utilize their resources.
Ultimately, it can help you save money on transportation by reducing the number of vehicles you need to employ.
Drop-and-pick operations require extensive planning and careful execution. Companies must apply their thorough planning to ensure the timely delivery of high-quality items to the appropriate customer. This process increases customer satisfaction and saves money on resources.
Coordinating several simultaneous pick-ups and drop-offs is difficult and time-consuming, which is why we recommend employing a professional. If one of the distribution centers is temporarily out of stock on an essential item, it can compromise the execution of the entire mission. This risk is why all the planning must be thorough and well thought-out.
Full container load (FCL) logistics offers significant potential for businesses to boost productivity and cut transportation expenses. Business operations can benefit from this system by moving products between warehouses and stores more swiftly and efficiently.
How Does Drop and Pick Work?
Logistics-wise, "drop and pick" refers to the transportation of products to the location of a customer or client and then retrieving them again. You can leave and retrieve a container without leaving and reentering the gate with Drop and Pick.
Drop and pick services are handy when a customer or client cannot store extra-loading containers at their location. This method allows the allotted container space to swap out with a new container instead of collecting several containers in one location.
Picking up items from a customer or client's location is the second part of a "drop and pick" transaction. Once the container arrives at its drop-off destination, the trucker will remove an empty container from that location.
Transportation modes suitable for drop-and-pick operations include trains, trucks, planes, and ships. When making the decision of which method of transportation to use, you must consider the type of item, the quantity, and the distance between delivery and pick-up points.
To complete a single drop-off and pick-up, employing more than one mode of transportation may be necessary. Drop-and-pick shipping involves delivering items directly to the client or customer's requested location.
The shipping costs will vary based on the weight and dimensions of the load, as well as the distance between the shipping and receiving locations. When the shipment finally arrives, companies will store it until the buyer comes to pick it up.
When is a Drop and Pick Necessary?
In logistics, several variables decide if a drop and pick are necessary. For example, a drop-and-pick strategy may be necessary when shipping perishable or fragile items. The need for drop-and-pick services is greatest for major shipper organizations that deal with many freight deliveries.
Distance, timing, and volume are considerations to take into account when shipping goods. Broken packages are more common among long-distance shipments.
With container drop-off and pick-up, the shipper can deliver the item directly to the customer, eliminating the need for third-party transport. If time is of the essence, drop-and-pick services may be necessary. Having your shipment handled by several carriers can increase the time it takes to arrive at its destination.
In addition, it becomes possible to guarantee on-time delivery when sending the items straight to the receiver.
Lastly, a drop-and-pick can be ideal if you need to ship many items.
Keeping track of things might be challenging if many different companies handle them. One way to ensure your goods' safety and prompt arrival is to ship them directly to the buyer.
Benefits of a Drop and Pick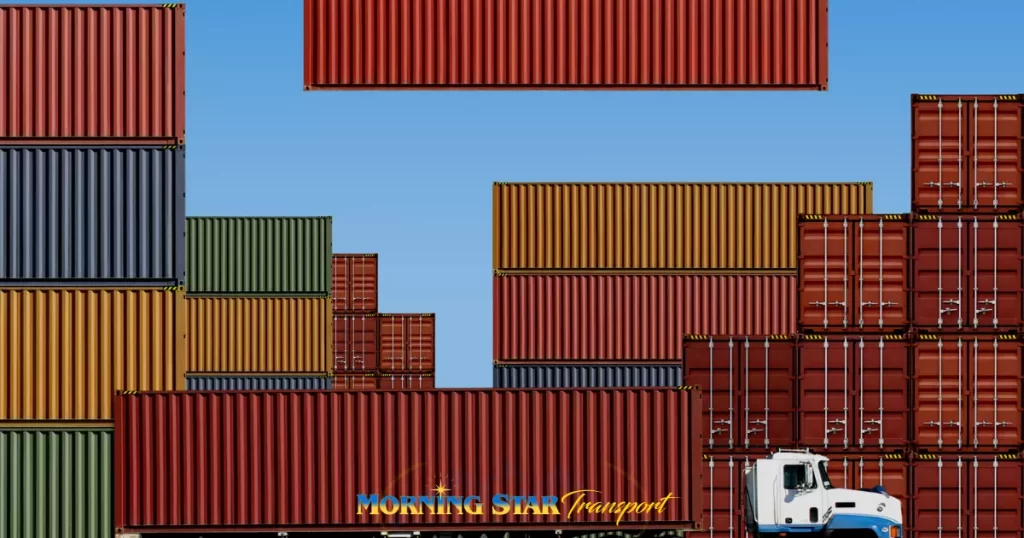 High-volume delivery operations often employ the drop-and-pick approach due to its cheaper costs and higher efficiency. It facilitates coordinated preparation for delivery and shipping by shippers and transport companies.
The advantages of container drop and pick are as follows:
Reduced Need For Labor
Pick and drop logistics allow container loading and unloading at the shipping company's facility. This benefit eliminates the need to use any additional temporary workers.
However, with live loading and unloading, you will see an increase in the use of temporary workers.
In addition, if the truck driver stays at the warehouse longer than necessary, the shipper must pay detention fees. Whereas with drop and pick, the business will have plenty of time to unload the container.
Improves Efficiency and Saves Time
The truck driver saves time by dropping off a full container and immediately picking up a different empty container. In contrast, live loading and unloading may cause delays and potential for detention fees while the truck driver waits for employees to empty the container.
Having the space to store a shipping container will help your business improve its efficiency in receiving shipments. Swapping out an empty container for a full one gives you more time to unload the container. This benefit saves you the money and hassle of employing extra workers during shipment arrival times solely to unload a live load within a short time frame. Live loading runs the risk of obtaining extra detention fees on top of the additional cost of employing extra people to unload containers.
Extremely Versatile
Drop and pick service provides shippers with versatile delivery scheduling options. You can load and unload containers before the truck drivers get there. Without setting up specific delivery windows, the truck driver simply needs to show up, drop off the container, and pick up the empty one.
Shippers who prefer to avoid drop-and-pick have to work out a delivery and collection schedule with the carriers. This route has strict criteria, such as a fast turnaround time and detention costs. When unforeseen problems arise, like bad weather or a breakdown, shippers are more willing to pay the premium.
The shipper will only pay extra if the containers and driver hand over the containers at the end of the grace period.
Quality Drop and Pick Service with Morning Star LLC
Delivery from Morning Star LLC is prompt, dependable, and precise. We can promptly get your goods to your homes, businesses, and warehouses. We offer the most reliable pick-up and delivery services between Tacoma and Seattle.
When developing a mobility strategy, it's essential to consider and address any issues concerning rules, regulations, potential routes, and necessary tools. Given our credible expertise, we're able to think "outside the box" when finding the best strategy for transporting any goods.
Check out the specialized services we provide and see what our logistics company can offer your business. Together we can help improve the flow of your business as you delegate your shipping concerns to our team of experts.
Make sure to get to contact us if you're interested in any of our offerings.